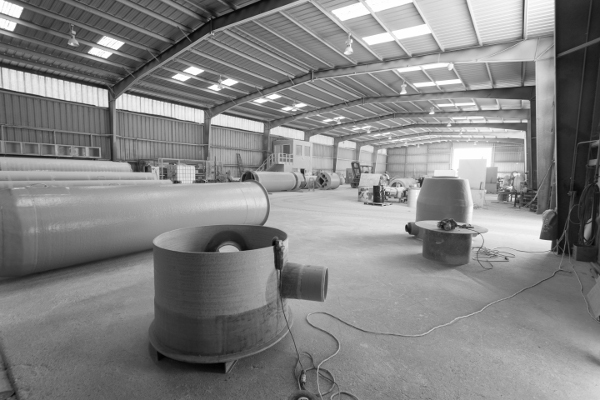 L. F. Manufacturing, Inc. (LFM), headquartered in Giddings, Texas, has been a major manufacturer of fiberglass-reinforced polymer (FRP) structures since 1974. LFM currently has seven manufacturing facilities across the U.S. to service every region in the country.
With over 200 employees, LFM manufactures pipe and structures with diameters from 8" to 20', with heights of 40' and more. Our fiberglass manufacturing processes include the latest chop-hoop and helical filament winding, open-mold spray-up, resin transfer molding and vacuum assist methods. For our OEM customers, LFM production services include plug and mold making to aid in product design, development and production.
FRP chemical storage tanks and process vessels are engineered for service conditions specified by each customer. A wide variety of glass reinforcement, synthetic reinforcement and resin selection allow LFM to address a wide range of pH and temperature ranges. Those vessels designed for industrial use meet or exceed ASTM D4097 requirements for hand lay-up contact molding and ASTM D3299 requirements for filament wound fabrication.
FRP manholes and wetwells used for municipal wastewater systems are constructed with a nearly endless array of configurations, with or without base assemblies, for depths from 3' to greater than 50'. FRP manholes and wetwells offer the lowest life-cycle cost by providing watertight and corrosion resistant properties. Manholes and wetwells by LFM are designed and manufactured to meet or exceed the specifications given in ASTM D3753. In addition to complying with all ASTM specifications, our fiberglass manholes carry an AASHTO H-20 and HL-93 traffic load rating.
A major consideration in the manufacturing of any FRP structure is the Quality Assurance Program. LFM maintains numerous certifications for both technical and quality assurance programs. In addition, each structure manufactured is archived with the production and inspection documents showing raw materials usage, wall thickness, resin qualities, fittings and accessories. These documents are maintained for future reference and customer inspection, upon request.
LFM provides a professional sales and design staff offering project review, pricing, CADD and design services. Additionally, our experienced staff of field service, repair and retrofit technicians are readily available upon request. Our professional drivers, responsible for the company's fleet of modern trucks and custom trailers, ensure timely and damage-free delivery.
We market our products throughout the United States utilizing a network of distributors and independent manufacturer representatives.